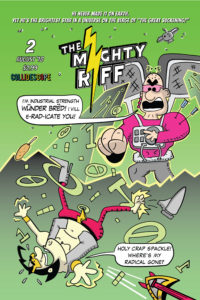 Cocky after defeating Drooping Molly's minion Bea Bouncé, The Mighty Riff™ and crew face devastation from a steroid-infused electro freak in Wünder Brëd. An epic clash ensues on The Foggy Moon, home of black metal bunny band and wild card – Beatrixxx Potter!
DOWNLOAD NOW at COMIXCENTRAL!
Or PRINT VERSION NOW AVAILABLE (AND DIGITAL TOO) at IndyPlanet!