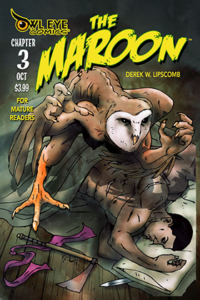 The Maroon #3 is out now! An early Halloween present to fans of the series. Derek Lipscomb raises chills with this mature reader indie comic that is getting rave reviews! I helped story edit and consult on this (woohoo!)
Click here to order digital or print versions!
With Matilda's life hanging in the balance, The Maroon finds himself lost in a foggy patch of the Ohio River. But when their raft runs aground on a desolate island, he too finds his life in jeopardy!