Blog / Updates
Donna-Lyn Washington at ReviewFix.com has reviewed The Mighty Riff!
Here's a snippet: 'The Mighty Riff' written and illustrated by Brian Coles may visually remind you of 'Phineas and Ferb.' With a mixture of the absurd and hope, Riff and his crew just may save this universe. And as independent comics go this one is of high quality digitally. It also has a quick, cohesive pace which you'll appreciate as a reader. You're going to look forward to the second issue. Will Riff save this rock-music dimension one villainous underling at a time? It'll be fun to find out, especially if there are more […]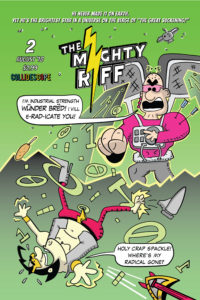 Cocky after defeating Drooping Molly's minion Bea Bouncé, The Mighty Riff™ and crew face devastation from a steroid-infused electro freak in Wünder Brëd. An epic clash ensues on The Foggy Moon, home of black metal bunny band and wild card – Beatrixxx Potter!
DOWNLOAD NOW at COMIXCENTRAL!
Or PRINT VERSION NOW AVAILABLE (AND DIGITAL TOO) at IndyPlanet!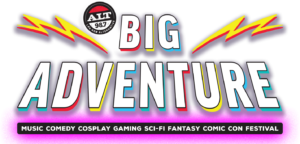 Please join me at Big Adventure is Costa Mesa, CA 11/3/-11/4/18. I'll be selling The Mighty Riff™ comics  (with exclusive trading cards) and art prints, The Happy Middle mini-prints and always up for a great chat! So swing on by!
More info: https://bigadventurefest.com
Latest
Email Newsletter
The Latest News and Release Info In Your Inbox!